PENY MANAVI (GRE)


Born in 1968, in Athens, Greece
Lives & works in Athens, Greece


The artist has always been fascinated by the odd and intense color combinations one can find while studying the biodiversity and abundance of colors and shapes in nature. The artist has been inspired by the microcosmos of insects and plants in focusing on the detail of plants and animals or the mysterious world of sea depths. While studying the detail and focusing on her subjects, Peny discover a whole new imaginary world.
Through painting Peny Manavi expresses her admiration to the mystery of life as well as her belief that people should consider nature as a source of joy and optimism. At the same time art is a triggering event for introspection a means of liberation of feelings that come out through the intensity of color and gesture which enables her to express rhythm and movement.
In her art one can find a balance between realism and abstraction. The motives and themes are recognizable but not always obvious and are viewed from a different prism through focusing. Her artworks is characterized by expressionism and a series of successive registrations on the surface of her canvases where one level of 'script' penetrates and is internally linked with the next.
She uses oil paint and printing ink alternating them and forming color spots and lines which transform to a gesture, attributing movement and rhythm in her artworks as well as texture and a variety of densities. The intensity, brightness and transparency of the colors Peny uses reflect a Fauvist approach that combines with a dynamic gesture and abstraction. The vivid colors and movement that create an energy flow which penetrates her artworks, are finally balanced in a composition of dynamic equilibrium where the aesthetic outcome reflects an optimistic and dynamic view.


Resume
Peny Manavi was born in 1968. In 1992 she completed a degree in Physics at the University of Athens and in 1994 an MSc degree in Radiation Physics at University College of London. Between 1996 and 2000 she worked as a Medical Physicist in KAT Hospital and the Onasseion Cardiosurgery Center. In 1999 she started her studies at the Athens School of Fine Arts with professor Y. Psychopaidis, from where she graduated with distinction in 2004. In 2013 she participated in the exhibition "Art en Capital", Grand Palais Paris and was nominated with the distinction "Toile d'Or de l'Année 2013" by the "Federation Nationale de la Culture Française".


Solo Exhibitions
2012 The Obvious and the Unseen, ArtZone 42 Gallery, Athens, Greece
2012 Wandering, Art Room Ermoupolis, Syros Island, Greece
2011 Autumn Symphony, Enigma Gallery, Kifissia, Greece
2010 Traces of Nature, Bonicos Gallery, Athens, Greece
2010 Nature's Patterns, Fleming Art Gallery, Thessaloniki, Greece
2010 Motivos Naturales, Galeria Amador De Los Rios, Madrid, Spain
2006 Shadows and Colors, Hilton Athens Hotel, Galaxy Bar, Athens, Greece
2006 Energy Flow, Titanium Yiayiannos Gallery, Athens, Greece


Group exhibitions
2016 Art Osaka, galerie bruno massa, Osaka, Japan
2016 Art Fair Tokyo, galerie bruno massa, Tokyo, Japan
2015 Affordable Art Fair Hamburg, galerie bruno massa, Hamburg, Germany
2015 Once Upon a Time in Kansai at Shibatacho Gallery curated by galerie bruno, Osaka, Japan
2015 Art Osaka, galerie bruno massa, Osaka, Japan
2015 Blue Art, Athina 2015, Art Zone 42 Gallery, P. Faliro, Athens, June.
2015 Select Fair, galerie bruno massa, New York City, USA
2015 Myrtis Megaron, the Athens Concert Hall, Athens, Greece
2015 Galerie Boehner seit 1995, Galerie Boehner, Mannheim, Germany
2014 Eortina Kallitehnon,Gallery Kapsioti, Peraeus, Greece
2014 Affordable Art Fair Hamburg, galerie bruno Massa, Hamburg, Germany
2014 Aethalleis Apohroseis, Art Zone 42 Gallery, Athens, Greece
2014 Porto Kea Suites Kea Island, Athens, Greece
2014 Tio Ilar 7, Athens, Greece
2014 Art goes to…Islands - Papagalos Hydra, dreamideamashine, Hydra Island, Greece
2014 En Tehnos, Euonymos Ecological Library – Gazi, Athens, Greece
2014 Toronto Art Expo, galerie bruno massa, Toronto, Canada
2014 The Power of Perception II, Creative Concept Inc, The S Artspace Gallery, Soho, New York City, USA
2014 Aftermath : they were, they are, they will ! at Atlantic Gallery curated by galerie bruno massa, New York City, USA
2014 World Art Vision -Studio Abba, Centro Cultural la Vaguada, Madrid, Spain
2014 Hiver'14, Swiss Art Space, Lausanne, Switzerland
2013 Art en Capital, Grand Palais, Paris, France
2013 Tropical Earth, Art Zone 42 Gallery, Athens, Greece
2013 Tio Ilar 6, ELGEKA, Athens, Greece
2013 Eden Interrupted, Art Athina, Art Zone 42, P. Faliro, Greece
2013 KLM Data, Art Prisma Gallery, Pireus, Greece
2012 Gallery tou Notou, Glyfada Athens, Greece
2012 Myrtis Archeological Museum, Delphi, Greece
2012 Poseidon of Paros, Golden Beach, Paros Island, Greece
2012 Tio Ilar 5, ELGEKA, Athens, Greece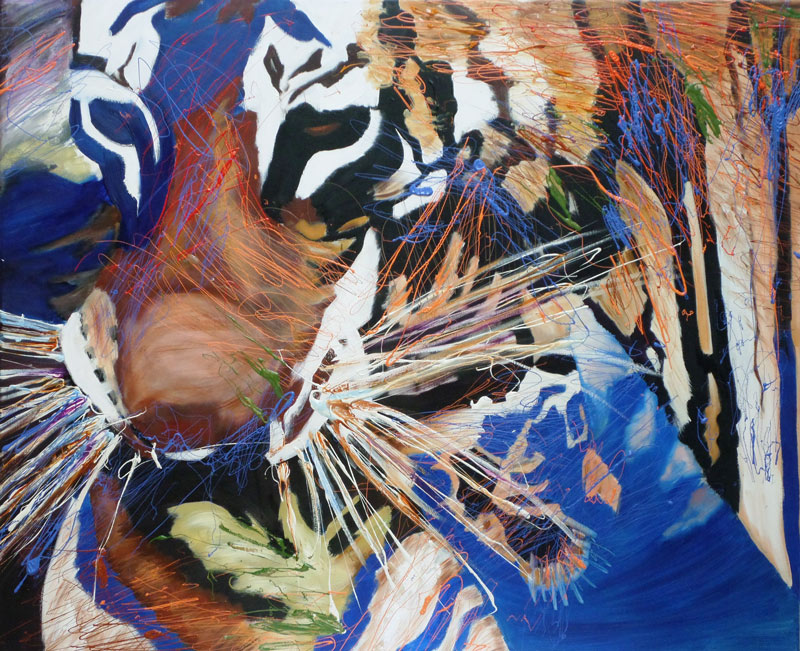 Mother Nature 4
2015
oil & ink on canvas
90 x 90 cm - 35,4 x 35,4 in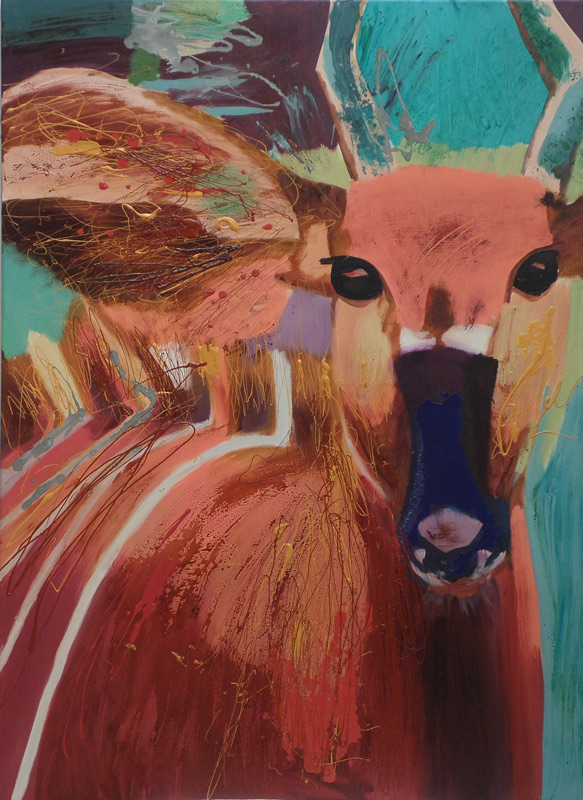 Animal Kingdom 3
2015
oil & ink on canvas
110 x 80 cm - 43,3 x 31,5 in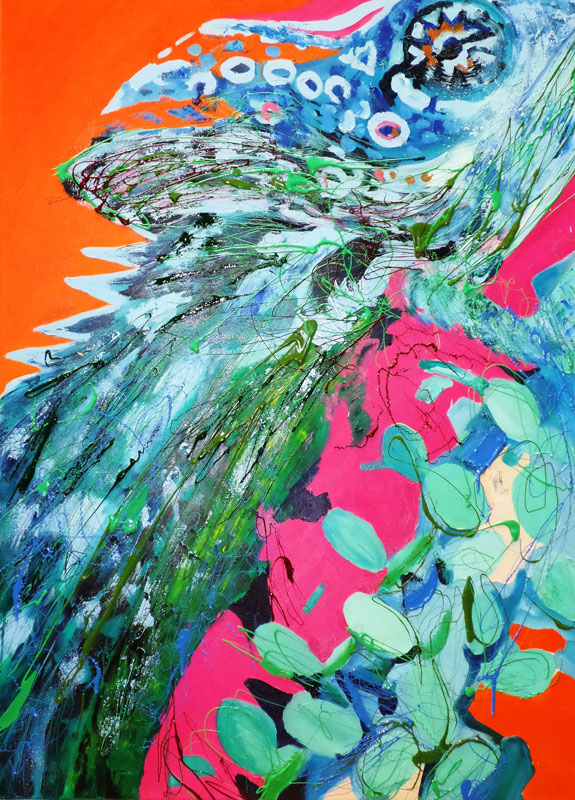 Reptile 2
2015
oil & ink on canvas
110 x 80 cm - 43,3 x 31,5 in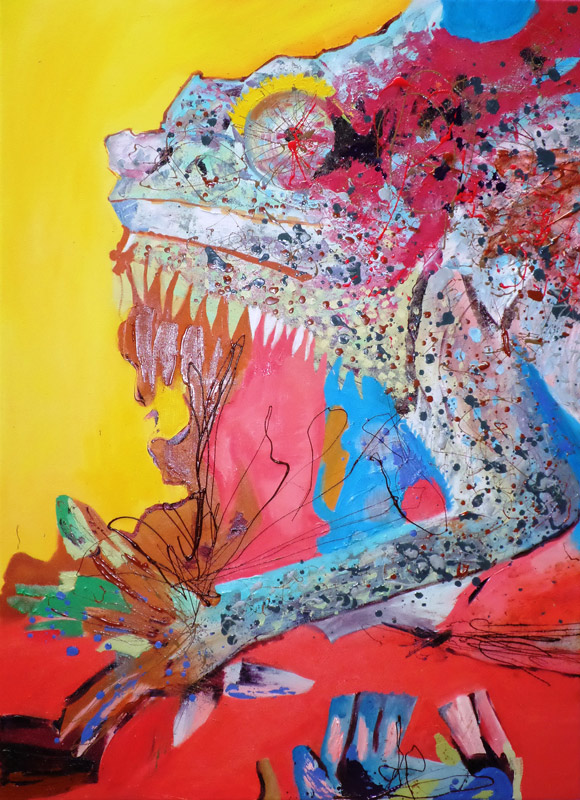 Reptile 3
2015
oil & ink on canvas
110 x 80 cm - 43,3 x 31,5 in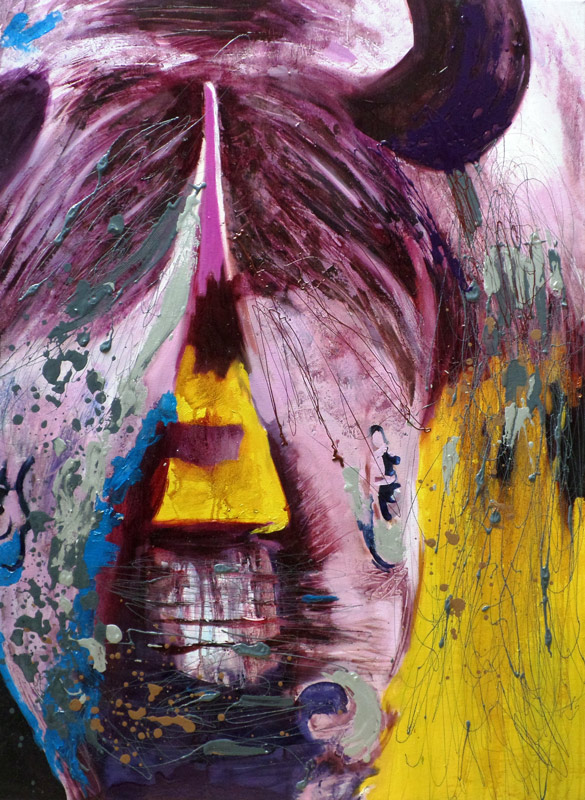 Rhino 2
2015
oil & ink on canvas
110 x 80 cm - 43,3 x 31,5 in