BENJAMIN DUKE (USA)


Born in 1977, Louisville, KT, USA
Lives & works in Lansing, MI, USA


Benjamin Swallow Duke was born in Louisville, Kentucky and grew up in Utah. He studied Literature, Philosophy and Art at the University of Utah receiving his BFA in 2002. He received his Master of Fine Arts at the Maryland Institute College of Art in Baltimore Hoffberger School of Painting, and has been teaching painting and drawing at Michigan State University since 2006. Duke has had numerous Solo, and Group shows at the national and international level including at the Fitton Art Center in Hamilton, Ohio, "Weak Painting Group," exhibitions at The Kuandu Museum of Fine Art in Taipei and Da Xiang Art Space in Taichung City, Taiwan, and Several Solo exhibitions at Ann Nathan Gallery in Chicago. Duke's work is represented by Gallery Victor Armendariz, a well-established and respected downtown Chicago Gallery with a focus on contemporary realism. Duke has also been awarded international residencies at Bamboo Curtain Studios, Taiwan from May to July 2009 and The Kuandu Museum of Fine Art December 2009 through January 2010 at Taipei National University of the Arts, the premier Art University in Taiwan. A Catalogue entitled: Benjamin Duke 2001-2010: Ten years of Work with essays by Brian Kubarycz, a scholar of contemporary literature, and Su YuAnn, an independent curator and critic, published by Garden City Publishing in June 2010.
Education
2006 M.F.A.- Maryland Institute College of Art, Hoffberger School of Painting
2002 B.F.A.- University of Utah, Painting and Drawing Emphasis
2001 Yale University Summer School of Music and Art at Norfolk
Solo Shows
2017 The Sideways, galerie bruno massa in partnership with Atlantic Gallery, New York City, NY, USA
2017 University of Louisville, Hite Art Insitute, Louisville, KT, USA
2014 A River Without Banks, Paul Collins Art Gallery, Grand Rapids, MI, USA
2014 The Contemporary Figure, Ben Duke & Robert McCann, Moss-Thorn Gallery of Art, Fort Hays, KS, USA
2013 Benjamin Swallow Duke and Nathan Barnes, Emerson Center For the Arts and Culture, Bozeman, MT, USA
2013 Benjamin Swallow Duke and Esther Randall, Rosewood Gallery, Kettering, OH, USA
2013 Thresholds Delaware Center for the Contemporary Arts, Wilmington, DE, USA
2012 Sublime Rupture Target Gallery, Alexandria VA Catalog with essay by Dominique Nahas, USA
2011 Identity In Itself, Lapham Gallery, Lower Adirondack Regional Arts Center, Glens Falls, NY, USA
2011 Benjamin Duke, Tony Shumsky, Roy G. Biv Gallery, Columbus, OH, USA
2011 UPHEAVAL, Traveling Solo Show, University Art Gallery, Saginaw Valley State University, Saginaw, MI, USA
2010 UPHEAVAL, Cloyde Snook Gallery, Adams State College, Alamosa, CO, USA
2010 Floating, Fitton Art Center, Hamilton, OH, USA
2009 Notwithstanding, Ann Nathan Gallery, Chicago, IL, USA
2009 Disrupted Particulars, Macomb Center for the Performing Arts, Clinton Township, MI, USA
2008 We Drew a Circle and Called it an Island, Garden City Art Space, Taipei, Taiwan
2008 Benjamin Duke and Teresa Dunn, University of Wisconsin-Parkside, Kenosha, WI, USA
2008 Imaginary Cities, Moraine Valley Community College, Palos Hills, IL, USA
2008 Awakening, Ann Nathan Gallery, Chicago, IL, USA
2006 Second Chance, Brewer's Art, Baltimore, MD, USA
2006 Opening Exhibition, Touchet Gallery, Baltimore, MD, USA
2004 Clamor, Rose Wagner Center for the Arts, Salt Lake City, UT, USA
2003 Paintings, Finch Lane Gallery, Salt Lake City, UT, USA
2001 Seen and Unseen, Union Art Gallery. Salt Lake City, UT, USA
Group Shows
2021 AMJO, galerie bruno massa, Jakarta, Indonesia
2019 PLAS Seoul, galerie bruno massa, Seoul, South Korea
2018 PLAS Seoul, galerie bruno massa, Seoul, South Korea
2018 Art Busan, galerie bruno massa, Busan, South Korea
2017 Art Gwangju, galerie bruno massa, Gwangju, South Korea
2017 Context NY, galerie bruno massa, New York City, USA
2016 Aqua Art Miami, galerie bruno massa, Miami Beach, USA
2016 Affordable Art Fair New York, galerie bruno massa, New York City, USA
2015 The Suburbs Eyes: Picturing the Sprawl, Ernestine M. Raclin Gallery, Indiana University, South Bend, IN, USA
2014 21 and Counting, The Painting Center, New York City, NY, USA
2013 Gallery Group, Ann Nathan Gallery, Chicago, IL, USA
2013 Unnatural Selection, Duke, McCann and Dunn, Lawrence Art Center, Lawrence, KS, USA
2013 4th Culture @ Scene Metrospace, Scene Metrospace, East Lansing, MI, USA
2013 Green Show, A Gallery, Salt Lake City, UT, USA
2013 Season Opener, Ann Nathan Gallery, Chicago, IL, USA
2012 Open Studios, 4th Culture Studios, Lansing, MI, USA
2012 Forms of ID, New Harmony Gallery of Contemporary Art, New Harmony, IN, USA
2011 Season Opener, Ann Nathan Gallery, Chicago, IL, USA
2011 Gallery Group, Ann Nathan Gallery, Chicago, IL, USA
2011 Open Studios, 4th Culture Studios, Lansing, MI, USA
2010 Contemporary Painting, Coburn Gallery at Ashland University, Ashland, Ohio, USA
2010 Kuandu Museum Residency Show and Open Studio, Kuandu Museum of Fine Art, Taipei, Taiwan
2010 Biennial Faculty ExhibitioN, Kresge Art Museum, East Lansing, MI, USA
2009 Realitease, Gaddis Geeslin Gallery, Sam Houston State University, Huntsville, TX, USA
2008 Figurative Fictions, Dayton Visual Arts Center, Dayton OH, Curator: Joe Houston of the Columbus Museum of Art, USA
2008 Biennial Faculty Exhibition: Kresge Art Museum, East Lansing, MI, USA
2007 Above & Beyond, Ann Nathan Gallery, Chicago, IL, USA
2006 Biennial Faculty Exhibition: Kresge Art Museum, East Lansing, MI, USA
2006 Launch (Graduate Thesis Show) Maryland Institute College of Art, Baltimore, MD, USA
2005 Hoffberger, Maryland Institute College of Art, Baltimore, MD, USA
2005 Boxing, Fox Gallery, Baltimore, MD, USA
Scholarships, Awards & Residencies
2015 Alfred and Trafford Klots International Program for Artists: Lehon, France
2011 Individual Artist Award, Roy B Biv Gallery, Columbus, OH, USA
2010 Best in Show: Figuratively Speaking, Village Gallery, Montgomery, AL, USA
2010 Artist In Residence: Kuandu Museum of Fine Art, Dec-Jan 2010, Taipei, Taiwan
2009 Bamboo Culture Residency: June 2009- August 2009. Taiwan
2008 Intramural Research Grant: Michigan State University, USA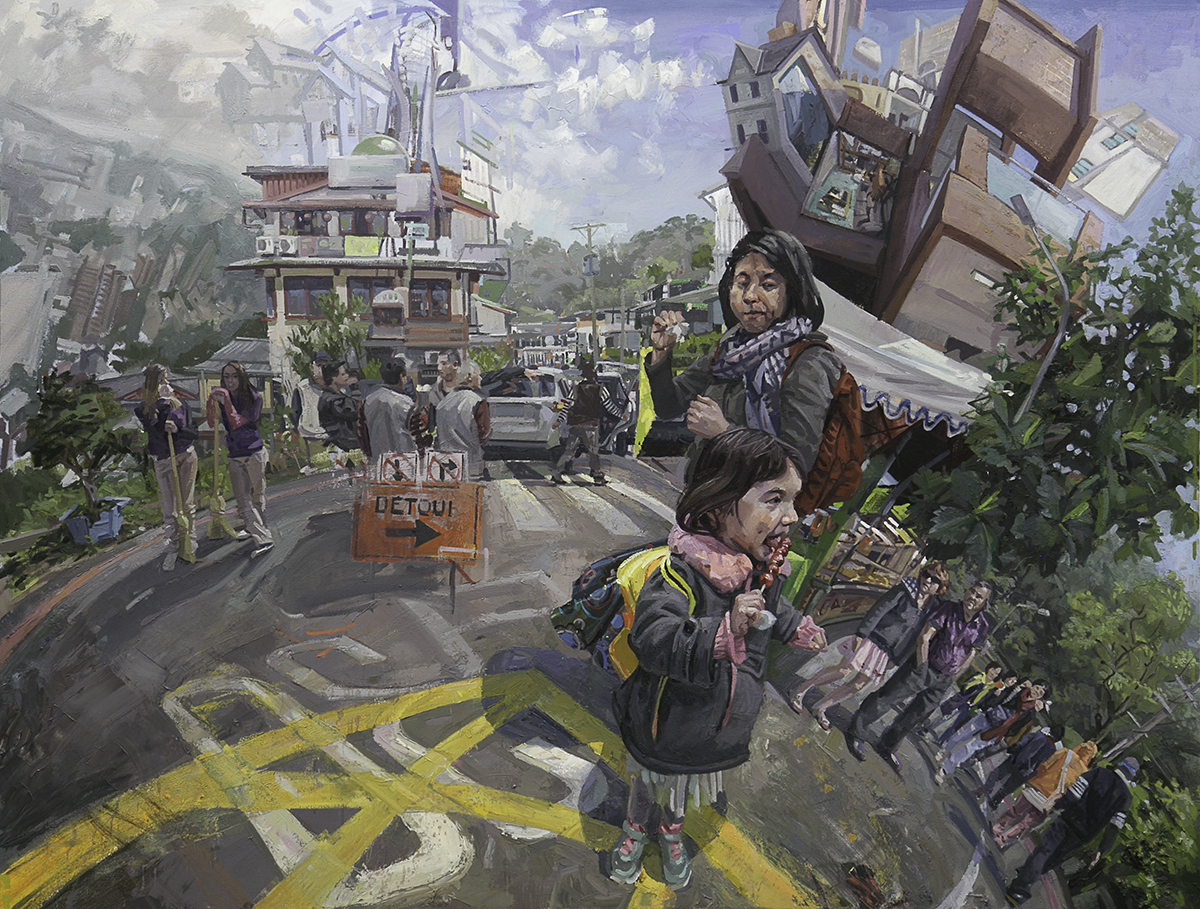 Detour
2016
oil on canvas
172 x 220 x 6 cm - 67,7 x 86,6 x 2,3 in
Lingua Franca #2
2016
oil on canvas
110 x 183 x 6 cm - 43,3 x 72 x 2,3 in